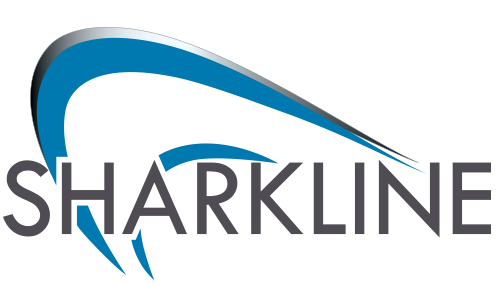 Our Sharkline Steel Pools are made of durable, high galvanized steel or with a resin polymer top rails and caps, which provides a pool that will give you years of summer fun! This is available in a variety of sizes, shapes and designs to match your backyard décor with terrific benefits and excellent value for your pool purchase.
Sunshine Steel Pool – 52" or 54" Wall
With the Sunshine Steel Pool you get beauty plus unmatched design and strength for a great price. This above ground-pool features oversized 7" coated steel top rails, fully supportive 5 1/2" coated steel uprights, painted and protected bottom rails and interlocking stabilizing bars. The top cover is constructed of a high quality 2-piece resin for a clean looking fit.
This American made swimming pool offers years of fun at exceptional value and is backed by a 25-year manufacture's warranty. It's available in a wide range of round and oval sizes. If you are looking for an oval pool, you will be pleased to know this pool is equipped with a Yardmore side buttress. This allows more yard space compared to traditional 3' buttress styles. It includes a Unibead liner, super flow ABS thru-wall skimmer and return jet.

Heritage – 52" or 54" Wall
The quality and engineering details of the Heritage above ground swimming pools surpasses pools costing much more. This pool is constructed with large 7" steel top rails and 6" uprights with Krystal Kote protection to guard against the elements for a stronger swimming pool and an easier installation, especially for the do-it-yourself customer.
The Heritage 52" or 54" pool utilizes an interlocking steel stabilizer at the top of the pool combined with a hardware free "snap in" resin bottom boot. The ovals are engineered with the Yardmore buttress-free space saver system. This pool has a 30-year warranty and is available in round and oval sizes. Includes an All Swirl or Unibead liner, super flow ABS thru wall skimmer and return jet.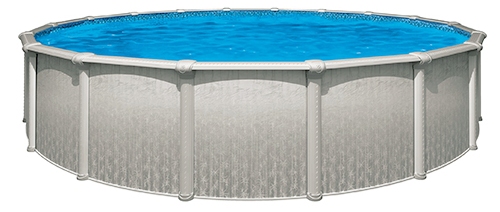 Matrix – 54" Wall
Beautiful and contemporary style combined with high-tech materials makes the Matrix the finest above-ground pool on the market today. It features a full resin frame, top seats, and uprights along with a patented pivoting top seat makes for easy assembly, installation, and regular maintenance.
Installation on the Matrix has never been easier with the snap-together toprails, bottom rails and uprights. Resin pools like the Matrix incorporate beauty and strength in a corrosion-proof Salt Water Compatible pool structure.
The Matrix oval pool system is available with the Yardmore Buttress Free Oval system. This streamlined system was designed to use less space in your backyard. A structurally simplified design with the superior strength and durability of our traditional construction that is both efficient and attractive.
International Swimming Pools
International Swimming Pools (Interpool) custom-builds steel pools in virtually any shape and size. International Swimming Pools fabricates their wall panels out of 14-gauge galvanized steel with zinc coating for superior strength, durability and protection from rust. Interpool's patented "no-weld" gusseted corners permanently bind the top and side flanges together, giving the panels great strength and providing greater support. Their products are strong, reliable, long lasting and rust resistant.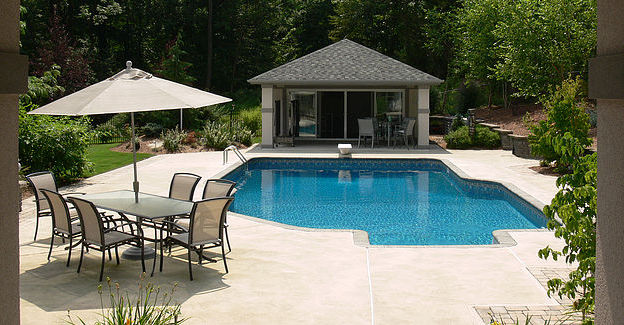 Nothing is more appealing than crystal-clear water. We carry a variety of traditional chlorine and non-chlorine alternatives. Our staff can help with all of your water balancing needs and help you address any pool or spa care concerns. We encourage you to bring in water samples for a free analysis!
Please visit our showroom to see our full line of products...